We received a lovely thank you note from the folks at Pathways Family Shelter After we donated our "Holiday Hats". Helping others is a wonderful and rewarding feeling! Thank you to the great people of Pathways for letting us get involved in the community!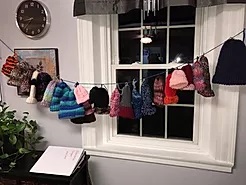 Reed Academy celebrated Chinese New Year on Thursday, January 26th. Students learned about traditions and customs and celebrated with a special Chinese lunch!
Have you heard of "The Kindness Rocks Project"? It's a movement started on Cape Cod to inspire people through randomly placed rocks with motivational messages on them. The project encourages those who have found rocks to pay it forward and make some of their own. Reed Academy students created and delivered rocks all over Middlesex County, with their biggest display at the McAullife Branch of the Framingham Library.